Why Virgin America is great (and I'm not even on board yet)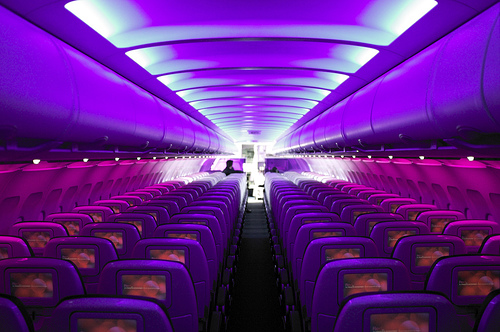 Today is my first time flying Virgin America. I'm headed to New York from San Francisco. My final destination is Boston but I decided to route through NY and take the Chinatown bus to Boston just to try out Virgin America.
So far its great. Virgin America flys out of the international terminal at SFO. This is the closest terminal to where BART drops you off, so its more convenient than most other airlines off the bat. SFO still doesnt have a bridge from the skytrain to the terminal, so flying most domestic airlines you've got to trek up and down the elevator. Virgin America had the desks right next to security and had carpeting and flowers set out, which was a nice touch. There was not a line, and a man helped me through the echeckin while the lady at the first class checking waved a coach passenger to her.
The boarding passes are a sensible size, smslle than usual so they fit in your pocket. They also are very clear to read without many of the codes and lines you get on typical boarding passes.
There was no line at the international security checkpoint at 7 AM, so I was at the gate within 15 minutes of getting off Bart. The gate agent announced that anyone wearing red or with a red bag could board with first class. Because were in the international terminal there is ample seating in the gate area for this small domestic flight. Virgin America is great thus far.
---
2007-10-09