Local Delivery Services are more efficient (than you driving alone)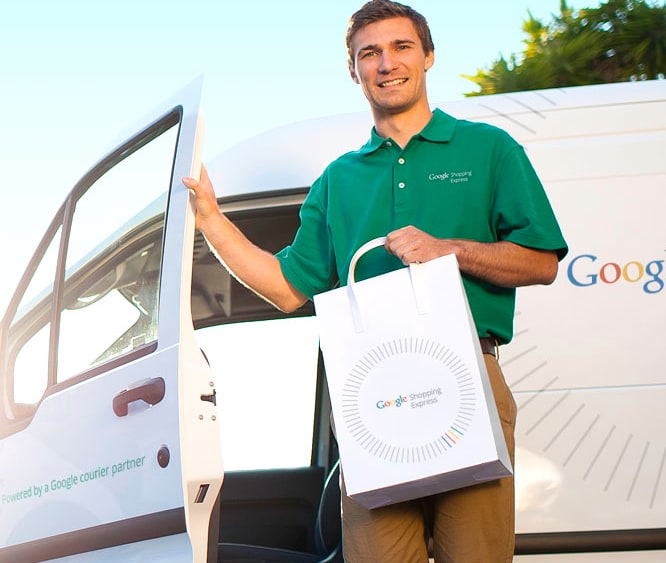 Personal vehicle travel is less efficient than a shared delivery vehicle[/caption]In San Francisco, a bunch of new local delivery services have popped up in the last few months.
Google Shopping Express is one of the newest. They offer same day delivery of things from Target, Walgreens, Office Max, Nob Hill Foods, Toys R Us, and a few other retailers. The delivery costs are waived for beta testers.
Instacart offers same day delivery of groceries from Safeway, Whole Foods, Trader Joes and Costco. They charge $3.99 for orders delivered within 3 hours, and more if you need your groceries sooner.
Ebay launched Ebay Now, a local same day delivery service in the Bay Area. They will deliver items from Walgreens, Home Depot, Office Depot, Radio Shack, Target, Best Buy, Macy's, Toys R Us, and more. Ebay Now supports San Francicso, San Jose and New York.
Outside of the Bay Area, Amazon delivers groceries in Seattle with Amazon Fresh and Peapod delivers groceries in a few other metro areas.
A recent study in the Journal of the Transportation Research Forum by Erica Wygonik and Anne Goodchild found that grocery delivery is a good thing, in terms of CO2 emissions and reduction of vehicle miles traveled.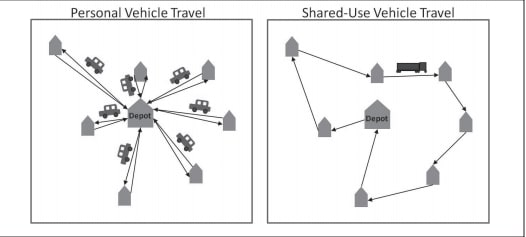 The analysis of grocery delivery demonstrates that a significant reduction in vehicle miles traveled and CO2 emissions is possible when personal vehicle travel is replaced by delivery service. We demonstrate that routing and scheduling strategy plays a significant role in this trade-off. These reductions are largest when the delivery service serves a proximity-assigned set of customers. In this case, delivery service can reduce CO2 emissions by 80%-90%, compared with 17%-75% reductions when customers are randomly assigned.
Services that combine orders from multiple stores, like Google Shopping Express and Ebay Now, have the potential to attract a larger number of customers, making the service more efficient than individual store based services. Google Shopping Express seems to pick up items from stores based in the Peninsula and then deliver them to destinations between San Francisco and San Jose. In this way, all of the products originate from stores near to each other, then are transported together to their destinations.
It will be interesting to see if any studies are conducted the impact of delivery services that combine trips to multiple stores and batch the deliveries.
Of course, in my case, if I didn't order from Google Shopping Now, I would likely walk to my nearby Walgreens or order what I needed from Amazon. Having things delivered to me is increasing VMT (but also increasing convenience for me). Delivery services that make it more appealing and easy to live in dense urban areas increases the number of people willing to live there, and those people are likely to drive less than if they lived somewhere less dense.
If you live in the Bay Area, there is no reason not to become a Google Shopping Express tester.
---
2013-05-30