Carsharing at the Airport: Zipcar lands at JFK, La Guardia and Newark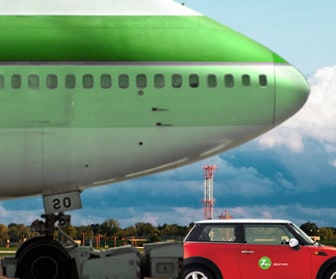 Zipcar jumped into the airport transportation business yesterday announcing cars located at New York airports (JFK, Newark and LaGuardia).  The cars are located at lots that have frequent rental shuttles to them.  Unlike traditional rental cars however, once you arrive at the lot there is no need to wait in line, fill out paperwork or puzzle over insurance and gas offers.  This is a substantial improvement over the traditional airport car rental situation.
Zipcar requires roundtrip rentals, so this means that airport Zipcars are only suitable for short trips.  For someone visiting New York for a weekend (and needing a car) it may be a perfect option.  Currently, Zipcar offers small sedans (Nissan Sentra, Honda Civic) at $12/hour or $89/day.
San Francisco already has two airport carsharing options - DriveNow and FlightCar.  DriveNow allows one-way car trips from Oakland or SFO airport to locations downtown SF, Palo Alto and Mountain View using electric BMWs.  This allows for more flexibility than Zipcar's roundtrip requirement as you don't have to pay for the car once you've arrived at your destination.  FlightCar is a peer-to-peer car sharing service that  currently serves SFO.  Like other peer-to-peer carsharing services, it offers a wide variety of vehicle types and will pick you up curbside.  FlightCar's pricing is less than traditional car rental companies, and it allows you to skip the lines and paperwork associated with airport car rental.
Zipcar's move to offer airport carsharing locations is one of the first noticeable changes to its service since being acquired by Avis.  The airport lots where Zipcars are parked are Avis car rental locations.
---
2013-03-27