Buxfer - customer service that can read your mind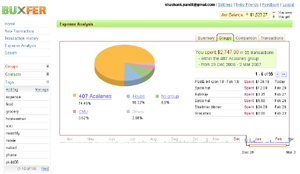 Update: Buxfer has ceased to operate reliably - venmo is a great replacement.
I use buxfer to keep track of expenses among friends, it had really streamlined paying for trips and meals and cut down on the confusion. I use it almost daily.
Recently, I attempted to add a new group to share expenses among friends but I kept getting a popup that said I had encountered a bug with a form to submit a report. As I was in a hurry, I didn't submit a report but almost instantly I got an email from Buxfer:
Hi Brendan,

We are having some difficulties with the group creation functionality. It will be resolved by the end of the day today. Please be patient until then.

Thanks so much!
That is the kind of support and customer service more web apps should have. I didn't even submit a bug report.
---
2007-12-20